---
PART TIME HORSE FARM JOB: Looking for the right person - will provide housing & a salary. Please call 321-636-0693 and ask for Shannon.
---
Full Boarding Available in July 2015 at my private, well-kept, very nice barn on 17 acres that leads out to miles of beautiful wilderness trails and close to many other equestrian riding parks and preserves. Two 12x12' stalls with 20' x 48' paddock runs and overhead fans and automatic large waterers (fresh water), Center-isle padded walkway, large tack room, under-cover wash-rack, 60' round-pen, picnic area under shade. Small ponds for horses to swim and cool-off in summer-time heat. Lots of shade, private ("park-like" atmosphere). Horses run out together on safe-type NO-BARBED fencing (where horses can live their life like horses should with loving experienced horse care). Many references. Don't need a horse trailer, you can ride your right out the back onto the beautiful trails! Equine trainer available (Dressage, cart, exercise, getting your horse use to riding the trails, etc.). Adults only please (as horses run free together out in the fields and I don't feel it would be safe for children).
Please call Pat Lent (321) 432-3436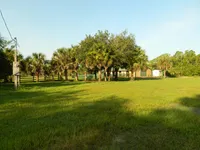 ---
HIDDEN ACRES RESCUE FOR THOROUGHBREDS NEEDS YOUR HELP!!
Hidden Acres is always in need of volunteers to add to our team. We have a monthly volunteer orientation the second Sunday of every month. We need volunteers for barn chores, lawn maintenance, lesson helpers, administration, fundraising and more. Anyone interested in volunteering or attending orientation please contact me at the number below for more information.
Tina Denson
Volunteer Coordinator
Hidden Acres Rescue for Thoroughbreds
321-747-6984
---
Affordable tail extensions. Natural loop, wrap around, slide-on, loop-on, natural hide. Go to www.TheshowPen.com and use Source Code FL10 for a free gift with order.
---
Full Board Plus in Canaveral Groves: Full board on over 2 acres. Specializing in personal service on a small scale. Board includes feed 2xday, turnout, and shavings once a week. Combination dirt/grass turnout. Tons of shade. Full size dressage arena with lights.
12x14 ft stalls with automatic waterers, fully enclosed feed/tack shed with refrigerator. On site restroom.
If you are looking for a small barn (4 horses max) without the big barn drama (not allowed!)give me a call. Please, no cribbers, kickers or aggressive horses.
321-480-5574
---
Joyce A. Ford, Certified Equine Sports Massage Therapist
2005 Graduate of Equissage, Inc., Virginia
I recently celebrated my 10th Anniversary in the industry on November 11th, 2015!
321-271-7334 cell
321-890-9667
www.equinesportsmassagetherapist.weebly.com
[email protected]


---
******Horse Boarding- Full Board*****
We treat them all like show horses. We feed twice a day. Individual turn out in grass patures. 12X12 stalls with lights and fans in all. Wormed every 30 days. Bran mash/metamucil every other week. Lighted arena and round pen. Check us out at
www.hwhranch.com
OR
[email protected]
Phone (321) 427 0246